Hotel Melia Grand Hermitage 5*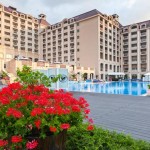 Location: Located on a quiet hill and surrounded by a green park, this exquisite luxury hotel offers the serenity you are longing for. The 5-star resort welcomes you with stylish atmosphere, quality service and refined cuisine. The main center of Golden Sands Sea Resort is set 100 m away from Melia Grand Hermitage. North of the Melia Grand Hermitage there is a lush green park and on the east there are green terraces leading down to the promenade and the beach.The BlackSea Rama, the Tracian Cliffs and the Lighthouse Golf Courses can be reached within a 30-minute drive.
Hotel capacity: 727 rooms- 368 Park view rooms, 269 Sea view rooms, 104 THE LEVEL rooms, 15 THE LEVEL Junior Suites, 13 THE LEVEL Deluxe suites, 1 THE LEVEL Romance Suite and 1 Hermitage suite that stretch over 225 sq.m and offers a delightful panoramic view.
Room facilities: Minibar, wireless internet, air conditioning, hair dryer, telephone, LCD TV with cable TV, tea and coffee maker
Hotel facilities: Room service, Fitness and SPA center, medical service, hairdresser, dentist service, indoor pool, outdoor pool, pool for kids, kid's club, children playground, german pub, restaurants, lobby bar, café, pool bar, laundry, ironing, dry cleaning, entertainment
Business facilities: Conference bar, convention center, multi-service meeting space for up to 410 people, free Wi Fi, 4 meeting rooms, projectors, screens, flip charts, markers, writing pads, pens, sound system, microphones