phone: +359-2-4911892
Book
Hotel Dobrudja 3*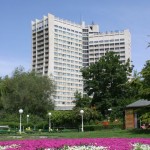 Location: Hotel "Dobrudja" is situated in the center of the resort Albena, just 300 m. away from the shore and it is at the beginning of the Art street.  The complex is surrounded by vegetation and flower gardens. The "Dobrudja" hotel is a symbol of Albena and it is well known as a hotel with high standards of service and friendly staff. The hotel is perfect for family holidays, as well as business trips.
Hotel capacity: 285 rooms – 170 double rooms, 70 single rooms, 12 small apartments, 31 big apartments, 2 rooms for handicap people
Room facilities: Phone, cable TV, minibar, air conditioning, wireless internet
Hotel facilities: Restaurant, panorama restaurant "Blue sky", restaurant ' The green apple', day bar, panorama café, night bar, outdoor and indoor swimming pools, a parking lot, a garage, SPA services,
Business facilities:  A congress and trade center and two conference halls with capacity 250 and 300 seats. In hall "Atlantik" one can translate in five different languages and in hall "Pacific" – 2 different languages.