phone: +359-2-4911892
Book
Radison Blu Grand Hotel 5*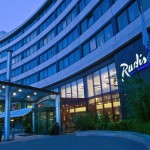 Location: This landmark hotel in Sofia opens onto the vibrant yellow pavement of Narodno Sabranie Square, home to trendy shops and boutiques as well as to mouthwatering restaurants. Guests can walk to iconic cultural attractions like Alexander Nevski Cathedral and take advantage of easy access to the metro system. Some room rates include complimentary shuttle service to the hotel from Sofia International Airport, just 10 kilometers away.
Hotel capacity: 142 rooms
Room facilities: Air conditioning, LCD TV, minibar, marble baths
Hotel facilities: Wireless internet, 24-hour room service, laundry and dry cleaning, restaurant, bar.
Business facilities: Three additional conference rooms can accommodate from 10 to 50 guests each.