phone: +359-2-4911892
Book
Belogradchik Rocks and Belogradchik Fortress
Tour highlights:
The tour starts from your hotel in the morning. After 3 hour drive from Sofia, you will reach the Belogradchik rocks and fortress.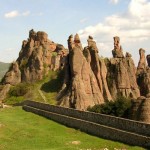 Belogradchik Fortress is situated at a distance of 1.5 km from the town of Belogradchik among the renowned rocks.
It is a fortress, that existed since the Roman times. In 1st – 3rd century AD the Romans built roads across the new provinces of the empire on the Balkan peninsula, as well as some fortresses to guard them.
The mission of Belogradchik Fortress was to control the road from the town of Ratsiaria (nearby today's village of Archar, in the region of Vidin). The Romans constructed the highest part of the fortress, called The Citadel.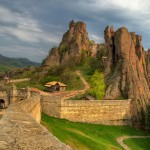 The Belogradchik massif is a group of strange shaped sandstone and conglomerate rock formations, located on the slopes of the western Balkan Mountains. The rocks vary in color from primarily red to yellow; some of the rocks reach up to 200 m. in height. Many of the rocks represent fantastic shapes and are associated with interesting legends. They are often named after people or objects they are thought to resemble. The Belogradchik Rocks have been declared a Nature Landmark by the Bulgarian government and are a major tourist attraction in the region. The central group of rocks is situated at the south and adjacent to the town of Belogradchik. Here we can observe the most interesting and impressive formations: Adam and Eve, the Mushrooms, the Schoolgirl, the Bear, the Dervish, the Shepherd Boy, the Lion, the Camel, the Madonna, the Horseman, the Monks, the goddess Bendida, the Rebel Velko, and many other stone figures. The second group of rocks is of the Alpine variety and is surrounded by steep precipices. The most famous of these are the Zbegovete, Erqupriya, and Boritch. The third group of rocks lies at 4 km. to the east of Belogradchik and includes the formations around the Latin Gate and the Lipenik Cave. The fourth group of rocks lies between the villages of Borovitsa and Falkovets. These include the Pine Stone, the Bee Stone, the Torlak, and the Maid's Rock. The fifth group of rocks lies between the villages of Gyurgich and Belotintsi.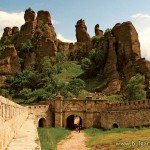 The tour ends early in the evening at your hotel in Sofia.
Starting time: 08:00
Duration: 10 hours
Minimum participants: 2 full paying
Price includes: Tour of Belogradchik Rocks and Belogradchik Fortress with transport with mini-van, English speaking chauffeur, licensed English speaking guide, entrances
Price does not include: Lunch, beverages, gratuities to the guide and the chauffeur (optional)
Supplement: Lunch set menu 10 euro or you may choose from menu in the restaurant (optional)
Price: Adult – 98 euro / Child – 49 euro