phone: +359-2-4911892
Book
Veliko Tarnovo and Arbanasi
Tour highlights:
The tour starts from your hotel in the morning. After a 3 hour drive you will reach the amazing Arbanasi. It is a village, situated at 5 km from Veliko Tarnovo, set on a high plateau between the larger towns that surround it. Arbanasi is known for its rich history and large number of historical monuments, such as 17th and 18th century churches and examples of Bulgarian National Revival architecture, which have turned the village into a popular tourist destination.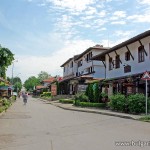 The tour continues to town Veliko Tarnovo – the old Bulgarian capital, often referred as the "City of the Kings".
Veliko Tarnovo is located on the Yantra River, its famous as the historical capital of the Second Bulgarian Empire and attracts many tourists with its unique architecture.
The old city is situated on the three hills, Tsarevets, Trapezitsa and Sveta Gora, raising among the meanders of the Yantra river. After a round tour of Veliko Tarnovo, the trip continues with a visit to the town of Tsars (Bulgarian word for King). The Tsarevets hill houses the palace of the Bulgarian Emperors and the Patriarchate with the Patriarchal Cathedral, as well as a number of administrative and residential edifices, all surrounded by thick medieval walls. It features a throne room, a palace church and a royal residential part and encompasses 4872 m². The Trapezitsa hill was known for its many churches and was the main residence of the nobility. During the visit of the old town you will be able to see the Baldwin's Tower, The Patriarchal Cathedral of the Holy Ascension of God, The rock of executions and much more.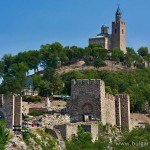 The tour ends in the evening at your hotel in Sofia.
Starting time: 08:00
Duration: 12 hours
Minimum participants: 2 full paying
Price includes: Tour of Veliko Tarnovo and Arbanasi with transport with mini-van, English speaking chauffeur, licensed English speaking guide
Price does not include: Lunch, beverages, gratuities to the guide and the chauffeur (optional)
Supplement: Lunch set menu 10 euro or you may choose from menu in the restaurant (optional)
Price: Adult – 122 euro / Child – 54 euro